Ultimate Guide to the Best Realistic Inflatable Dildos -Inflate it in!
Friday, 29 July 2022

5

2277

0

Do you wish to spice up your sex life? Then you are at the right place. Suporadultproduct is here to help you choose the best inflatable dildo to suit your preference. There are delightful and extraordinary dildos. The main advantage of an inflating dildo is it offers women value for their money.
We understand it can be terrifying as a beginner looking to explore options of the best sex toys on the market. Luckily, the intriguing inflatable dildos are authentic and versatile. It allows users to adjust the dildo's size based on their experience.
The Realistic inflatable dildos also make your solo play riveting. The sex toy has a remote control and natural pump. You don't have to spend more cash buying bigger dildos. Utilize the inbuilt pump of the toy to enlarge the length and girth.
Overview of the Best Inflatable Dildos
Best Beginner-Friendly Inflatable Dildo: Cock Locker

Best inflatable dildo for Experts: Inflatable huge dildo

Best Selling Inflatable Dildo: LovingJoy

Most affordable inflating dildo: Inflatable Stud Dildo

Best Suction Cup Inflatable Dildo: Suction Cup Dildo

Best G-Spot Stimulating Dildo: Vibrating G-Spot inflatable dildo

Best Prostate Massager Inflating Dildo: Silicone Anal Plug

Best Inflatable Anal Beads: Rolling Penis Butt Plug

BDSM Inflatable Dildo: Booty Call

Best Inflatable love seat-Fetish: Fantasy Inflatable Seat
Cock Locker-Beginner-Friendly Inflating Dildo
The 6-inch cock locker is a medium-sized inflatable dildo best for beginner's. The slender inflating dildo is made from super elastic sturdy latex. You can use the gadget for anal or vaginal penetration. Its profuse inflation swells inside you slowly.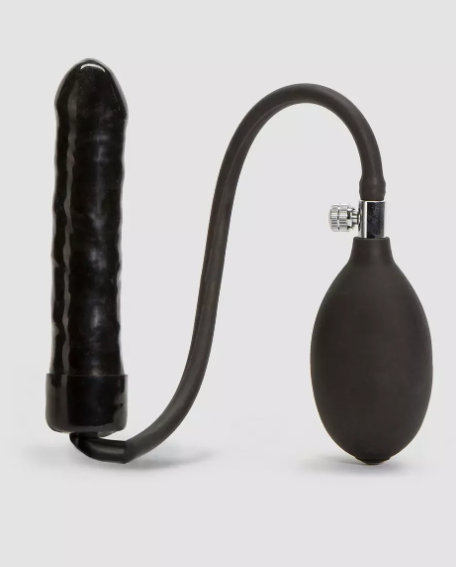 The sensational tiny toy circumference rests at 3.5 inches and stretches to 6.5 inches. Its actual length is 4.5 and fully expands to a whopping 5.5 inches. If you have a latex allergy, avoid buying this Cock Locker inflating dildo.
Features
Material: Latex

Usage: Operates manually

Girth: 3.5 to 6.5 inches

Length: 4.5 to 5.5 inches

Waterproof: Splashproof

Allergens: Phthalate-Free

Allergen Warning: Made of Latex
Advantages
Beginner Friendly dildo

User-friendly hand pump

Easy to use the safety valve
Disadvantages
Small girth unsuitable for experienced toy users

Cock locker Locker 6 has a latex allergy

At times it's challenging to use the pump
Huge Cock Locker:-Best Experts Inflating Dildo
The enormous Cock Locker 11-inch inflatable dildo is idyllic for expert play. Its realistic phallic shape provides a powerful performance. This superb meaty inflatable dildo has a soft feel and authentic veins. A euphoric ride is guaranteed to all latex lovers. The Flexible soft toy has a rich melanin dark color.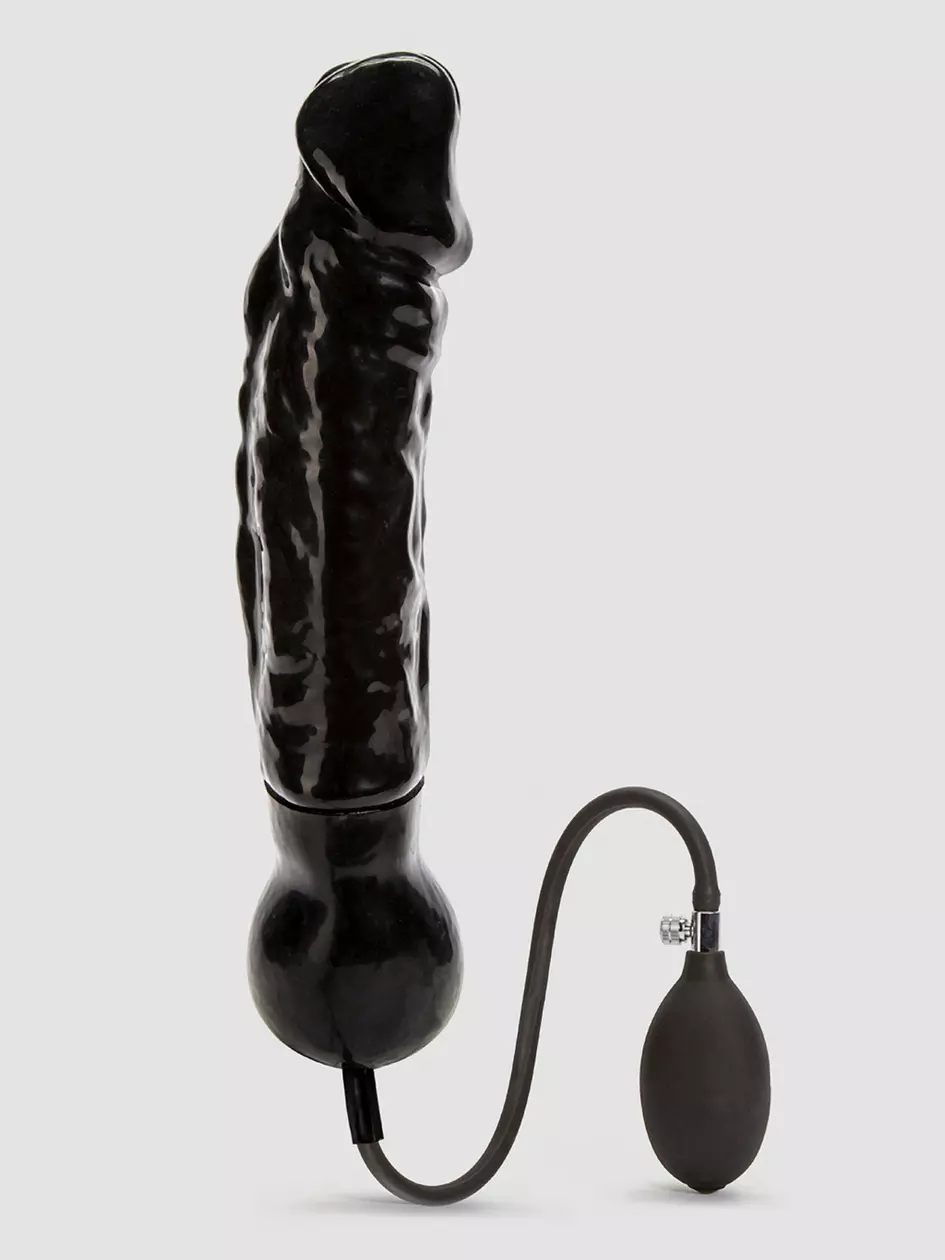 Cock Locker inflatable huge realistic dildo's natural girth is 23cm and its fullness measures 12 inches (30.5cm). However, its non-inflated length is 23cm and voluptuously stretches to 11 inches (28cm). Deflate the dildo by turning its valve from its bulb. The dildo is perfect for a couple's play. Additionally, you can test your limits during a solo play.
Features
Material: Latex

Usage: Operate manually

Circumference: Maximum size 9 inches

Allergens: Phthalate-Free

Length: Maximum size 9 inches

Waterproof: Splashproof
Advantages
Easy to clean

Excellent delivery speed

Easily inflatable and deflatable

Enormous length and circumference

Realistic penis inflatable dildo

Quick release valve

Efficient hand pump
Disadvantages
Caution it has latex allergy

Hard to insert when floppy

For Expert play only, unsuitable for beginners.

Some users report cervix pain

Partially waterproof
LovingJoy 6 Inch- Best Selling Inflating Dildo
LovingJoy turns you on with every thrust and growth as you gradually pump its size. The flexible sex toy will quench your dry spell thirst with its sensational stretch. This silicon inflating dildo is perfect for users with latex allergies. Additionally, the moderately curved rod and realistic head, spark the female's G-spot or stimulate the male's prostate.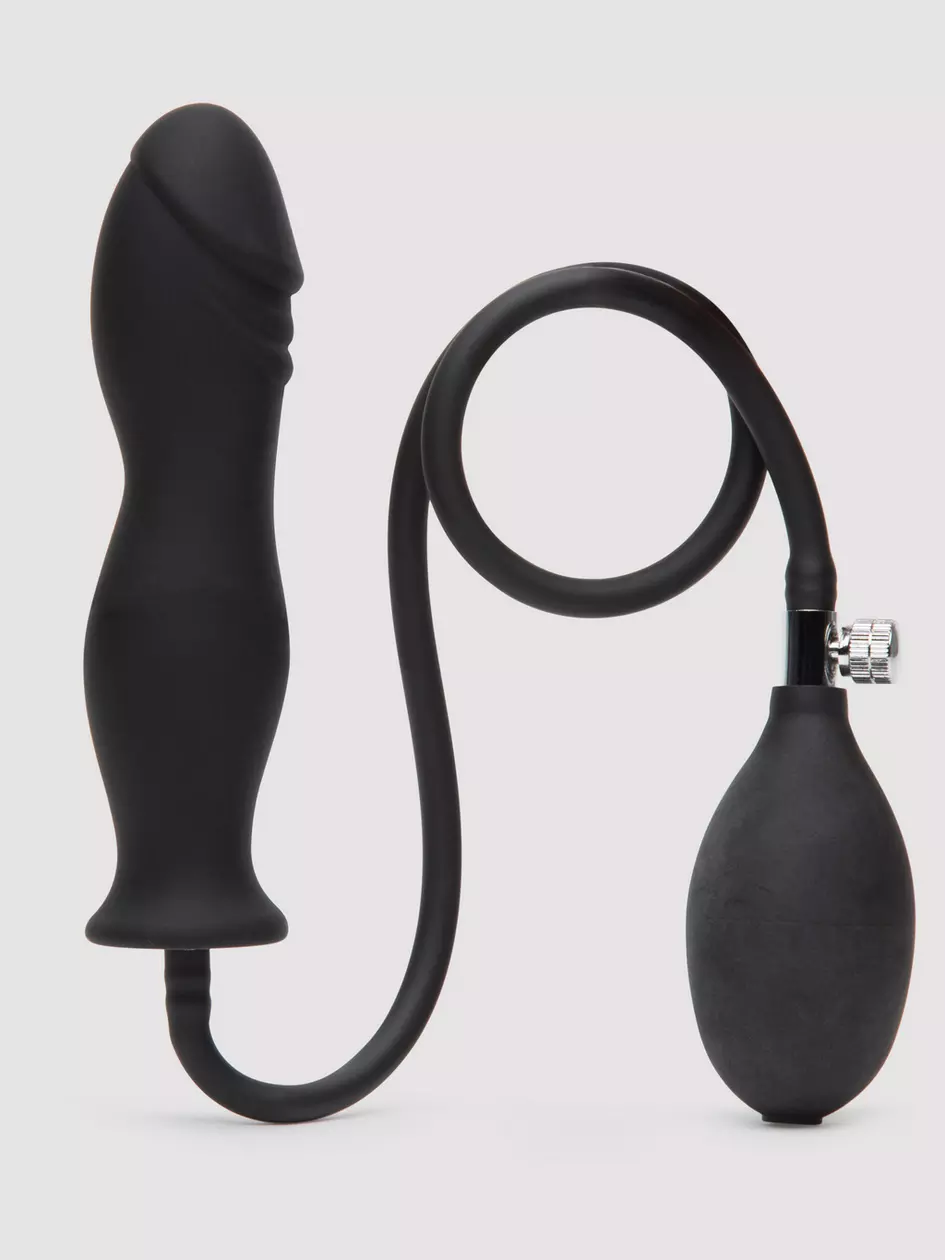 The LovingJoy inflating dildo circumference expands from 4.75 inches to a wailing 11 inches. On the other hand, the gadget is able to arouse all the right corners by stretching its length from 6 inches to 8 inches. You can deflate the dildo using its release valve. Use the dildo with a rich water-based lubricant for a smooth ride.
Feature
Material: Inflatable silicone dildo

Usage: Operate manually

Waterproof: Submersible

Girth: 4.75 to 11 inch

Length: 6 to 8 inch
Advantages
Enormous maximum girth

Flexible since it doesn't have an internal core

Made from quality safe silicone material
Disadvantages
Unsuitable for beginners

A bit hard using the valve
Inflatable Stud Dildo-Most affordable inflating dildo
Size does matter when buying an inflating dildo. The manufacturer of the Inflatable stud Dildo designed the toy to achieve a riveting orgasm. If you are looking for a deep thrust with a cheap price tag, go for this gigantic inflatable dildo.
The authentic 7-inch girth extends to 9.5 inches for your preferable volume. Use your palm to pump the huge sex toy. It has an intimidating black color with a realistic design.
Features
Material: Latex

Usage: Operate manually

Girth: 7 inches

Length: 9.5 inches

Waterproof: Submersible
Advantages
Realistic dildo with lifelike penis vein and head

Quick-release valve

Enormous insertable inflating dildo

Easy to use

Versatile usage

Best inflatable dildo for foreplay

Submersible and waterproof
Disadvantages
Unsuitable for beginners

Balloons outside the butt

Latex allergy
Best 2022 Suction Cup Dildo-Inflatable Suction Cup Dildo
The lifelike Inflatable Suction Cup Dildo fills your erogenous spots when it swells up. At a press of a button, the silken silicone shaft takes you to the top of the world. Despite the petite size of the realistic auto-inflatable dildo, it gives authentic pleasure. The remote control allows you to moderate the sex toy's vibration and size.
Moreover, the vibrating suction cup inflatable dildo has raised veins, balls, and a realistic penis head. The toy is perfect for magical pleasure with your partner. Both beginners and intermediate sex toy lovers can easily use the dildo.
Features
Material: Silicon

Usage: Remote Control

Vibration Speed: Patterns and Speed

Allergens: Latex-Free/Phthalate-Free

Girth: 7 inches

Length: 5 inch

Speed: 10 vibration functions

Waterproof: Splashproof
Advantages
Best for beginner toy lovers

Easy to use

Phallic shape

Smooth and flexible

Couple toy and for solo masturbation

Handy inflatable suction cup dildo
Disadvantages
Small girth and height

Unsuitable for expert toy users
Best Inflatable Vibrating G-Spots stimulating Dildo: G-Spot Inflatable Dildo
The sensational G-spot Inflating Dildo is the best inflatable vibrating dildo. The toy has a pleasant stretch and a quick release valve. The battery-powered vibrator comes with remote control giving you total dominance. Achieve electrifying arousal by testing various speeds. As the dildo grows inside your blissful internal hotspot, your G-spot will vibrate in delight.
The inflating dildo enkindles teeming arousal in your vaginal nerve endings. Additionally, this Inflatable G-spot vibrator dildo is designed with a realistic penis structure. It has veins and a curved shape. Its graceful hand pump inflates the dildo to a breathtaking length.
Features
Material: Soft Plastic

Girth: 6- 8 inch

Length: 7-7.5 inch

Battery Type: 2XAA batteries

Waterproof: No
Advantages
The inflatable vibrating dildo inflates and deflates in seconds

Curvy structure for G-spot stimulation

Easy to adjust

Remote control that moderates the rhythm

Easy to control the Inflatable Vibrating G-spot pleaser

Realistic G-spot inflating dildo
Disadvantages
Latex allergy

Some reviewers claim the dildo is too rigid.

Not USB Rechargeable
Best Inflating Prostate Massager Dildo: Booty Call
The Booty Call Inflatable Butt Plug is the best inflatable prostate massager dildo. It is a good start for toy lovers that want to explore anal play. The gadget makes you a butt-loving fanatic. Additionally, this booty call dildo is perfect for prostate massage.
The silicone inflatable suction cup dildo girth increases to a vast 8.5-inch anal monster. You can easily use the dildo and enjoy a smooth ride. We recommend using anal lube for smooth penetration. The butt monster plug gives you an ecstasy anal nerve-ending sensation.
Features
Material: Silicon

Usage: Operate manually

Allergens: Phthalate-Free/ Latex-Free

Girth: 4.5-8.5 inches

Length: 4.5-6.5 inch

Flexibility: Firm

Waterproof: Submersible
Advantages
Made from silicone material

The suction cup is easily attachable to a smooth surface

Stretches easily to 8.5 inches
Disadvantages
The hose is not at the base but on the stem
Best Inflatable Anal Beads: Rolling Ball Inflatable Butt Plug
The silicone Double Rolling Ball Inflatable Anal vibrator plug expands to 10cm diameter. The huge inflatable butt plug is suitable for couples and solo play. It can deliver sensational frenzy orgasms.
You can also increase the speed of the vibrating anal inflatable beads using its 10 speed vibration. Tremble as you climax simultaneously from the stretching inflating dildo beads and being stuffed in your vagina.
Features
Material: Silicone

Usage: Remote control

Speed: 10 strong vibration

Battery: 2XAAA batteries

Waterproof: No
Advantages
Easy to inflate and deflate the inflatable anal beads

Play with 10 speedy, powerful vibrations

Easy to use
Disadvantages
Best BDSM Inflatable Dildo: Bondage Boutique Inflatable Dildo Gag
The elegant Bondage Boutique Inflatable Dildo Gag elevates your bondage sex play. Your partner will fully be at your mercy. It escalates the visual arousal. You dominate the erotic moment by dominating your partner to only speak at your command.
The BDSM inflatable dildo has a buckle strap, leather muffle, hand pump, and customizable mouth section. The bondage inflatable dildo's natural length is 3 inches and expands to 5.5 inches.
Features
Material: Rubber and Leather

Usage: Operate manually

Girth: 5.5 inches

Insertable length: 3 inches

Waterproof: Submersible
Advantages
Quick Release safety valve

BDSM Intermediate-friendly

Best bondage inflatable dildo gag for submission

Smooth texture 3 inches long

Stretches to 5.5 inches girth

Suitable for blow-up fetish
Disadvantages
It may be difficult for users who haven't tried a normal gag before

Experienced players may want huge inflating gag
Best Inflatable Love Seat-Fetish Fantasy Inflatable Hot Seat
The Fetish Fantasy inflatable seat is a cozy soft seat. It takes you on a euphoric ride. Sit down, wiggle, and bounce on the vibrating rubber dong pole. Discover the best inflatable love seat dildos orgasm's ability.
The tip of the fetish inflatable dildo has a powerful multispeed bullet. The dildo comes with free seam glue and an eye mask. The climaxing glory of the fetish seat is pure bliss.
Features
Material: Soft plastic
Allergens: Phthalate-Free/ Latex-Free
Power Type: Batteries
Speed: Multiple vibration speeds
Length: 5.25 inches
Girth: 6 inches
Waterproof: Splashproof
Advantages
Mind Blowing space hopping bounce

Holds up to 300lbs weights

Great value for your money

Versatile inflatable love seat

6-inch speedy inflatable love seat vibration
Disadvantages
Exhausting to inflate and deflate

Some expert users prefer huge inflatable vibrating seats

The dildo can't be removed
Some of the factors we have considered in our unbiased buyer's guide are the best material of the inflatable dildo, length, the best model, Suporadultproduct best selling inflatable dildo, girth, and how easy it is to clean the toy. Get one of the best 2022 inflatable dildos today.
FAQ
What is an inflatable dildo?
It is a euphoric dildo you pump in the air using the toy's hand pump. You control the size, circumference, and speed of the stretch.
How to use the inflating dildo?
Set the mood and relax your muscles. Also, apply water-based lube generously for smooth penetration. Pump in, slowly flowing with the vibe. Once you have achieved the orgasm, deflate the dildo before removing it from your erogenous zones. If you use the BDSM inflating dildo, establish a safe word and let your partner know your limits.
How to choose the best inflatable dildo?
When buying an inflatable dildo, you need to consider various factors like; material, size, design, a quick-release valve, vibration mode, does the toy stimulate the G-spot or works manually.
Why use an inflating dildo?
Inflatable dildos have taken the market by the boom. The toys are popular with couples looking for ways to spice up their relationships, beginner toy users, and BDSM lovers.
How to clean the inflatable dildo?
Ensure you keenly read the manual to avoid spoiling your inflating dildo. Additionally, before and after use, clean the dildo to prevent getting an infection.
How to buy inflatable dildos online?
You need to shop with authentic sex toy dealers. Go through the user reviews to get first-hand experience before buying an inflatable dildo.
How to fix a faulty inflatable dildo?
We recommend getting a new durable inflatable dildo if the old piece is damaged. Otherwise, you can harm your genitals. Ensure you buy a quality body-safe dildo and compatible repair kit.
Top 10 Best Male Sex Toy in 2022
Top 10 Best Female Sex Toy in 2022
Top 10 Best Anal Toy in 2022

Your cart is currently empty.