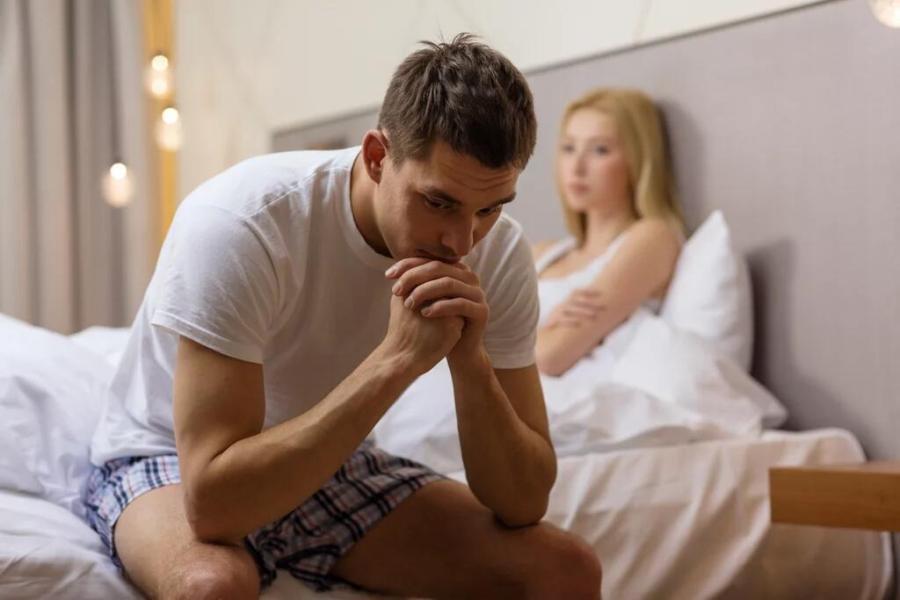 9 Mistakes Men Make About Sex Toys
Wednesday, 08 January 2020

4

3310

0
When most people think of sex toys, they are either grossed out or remember the infamous Sex and the City rabbit vibrator or a pocket rocket. However, just like every else has advanced — from technology to food to the way we shop — adult products have also changed. They have not only become more mainstream, but they are also more discreet and less intimidating. Despite the advancements in adult pleasure products, many men are still weary about using them, whether it is for themselves or with their partner.
Here are a 9 mistakes men make about adult sex toys:
1. Will My Partner Like Them Better Than Me?
Many men worry that their female lover will like a sex toy more than him. Although these are valid fears, they are based solely on natural insecurities. A sex toy can never replace the natural need for human touch and is purely an enhancement to sexual play.
We all know that approximately 75% of women need clitoral stimulation to orgasm. The reality is that men can't replicate what a toy can do. Sometimes men's fingers or tongue get tired or they can't get the right speed or the right amount of pressure. If they can — that's GREAT! If they can't — that's where vibrators help. On a similar note, dildos allow women to experience different textures and sizes. This is not a competition between a man and a sex toy, an inanimate object by the way. Sex toys will never be able to replace person-to-person contact or an emotional connection. Sex toys are objects and objects can't replace is intimacy. So, they help her orgasm or give her a better orgasm, but nothing can replace the satisfaction and joy of being intimate with the person that you love.
2. I Must Be Bad In Bed If My Partner Wants To Use A Sex Toy
Women enjoy using sex toys alone or with their partner. A woman's use of sex toys is by no means a reflection of her partner's ability in the bedroom. They add a whole new dimension to sexual play because they add variety. Couples should share in the experimentation together. Trying new things brings couples closer together and creates more intimacy.
Sex toys can also help her achieve pleasure, which is often a source of frustration between couples. While some women need toys to orgasm, other women find themselves reaching full arousal much faster using pleasure products. (There's no shame in quickening things up. Women have lots of things to do!) Either way, this increases sexual satisfaction for both partners.
3. Will My Partner Become Addicted To Toys?
No! According to Psychology Today, "Addiction is a condition that results when a person . . . engages in an activity that can be pleasurable but the continued use of which becomes compulsive and interferes with ordinary life responsibilities, such as work or relationships, or health." Furthermore, addiction ". . . is the need to take action under certain kinds of stress." A person can be addicted to drugs or gambling, but not sex toys. It is true, that she may be very used to her toy and like it ALOT. If so, your partner can get so used to that type of stimulation that they won't want any other kind. That's where you come in: show your partner that other kinds of stimulation are just as good as the toy. If you try hard enough, you will succeed!
4. Respectful People Don't Use Toys
Any type of person can use a sex toy – from your boss, neighbor, friend to the cashier at the supermarket. It doesn't make anyone a bad person. Using a sex toy doesn't make you "weird" or doesn't say anything negative about your relationship. It just helps you have more fun in the bedroom! Plus, who will know? What you do in the bedroom is your business and doesn't have to be shared unless you want to.
5. Sex Toys Are Just For Masturbation
Although adult toys are commonly used for masturbation, many couples enjoy using toys together, whether they are gay or straight. Couples who use pleasure products together are open-minded, comfortable trying new things together, and most of all — trusting. Couples toys are an excellent way to try this experience together. One of our favorites is the Remote Wireless Vibrator, which is worn by her during sex. Another favorite is the Vibrating Egg wireless remote controller, which is a great way to tease your partner for a night out on the town! You could also try a vibrating penis ring, like the Pretty Love Silicon Vibrating Cock Ring, which is worn on the penis and the vibrating part stimulates the clitoris.
6. Using Sex Toys Are Physically Dangerous
Wrong! In fact, sex toys can have very positive effects on sexual health.
For women, they can benefit from strengthening the pelvic floor muscles with kegel balls, such as Luvkis Kegel Balls. If she suffers from painful sex, vibrators can stimulate blood flow. Did you know that many doctors and therapists recommend female sex toys to women who have trouble reaching orgasm?
For men, prostate massagers, such as the PHANXY Vibrator Male Prostate Massager, reduce the risk of prostate cancer, erectile dysfunction and frequent nighttime urination. Penis or cock rings are excellent tools for men who suffer from premature ejaculation.
Sex and orgasms help you live longer, block pain and, some say, look younger. If adult products help with that, why wouldn't you use them?
7. My Sex Life Is Fine – I Don't Need Sex Toys
Nothing is perfect, right? Sex can always be better. Another way to look at it is if you like chocolate ice cream. If you eat it for every meal for a month, will you get sick of it? Most of us would. The same goes for sex. If you and your partner have sex the same way every time, it can get boring. Why not change it up with sex toys and sex accessories? Try it — you don't have to like sex toys, but you will never know unless you try them.
8. My Partner Thinks They Are Stupid Or They Are Embarrassed
Before high quality sex toys came along, sex toys were stupid and embarrassing. Pleasure products have evolved with more creative, technology-driven designs. Many of them look right at home next to an iPhone. Now less intimidating, these products are easier to bring into the bedroom and introduce them to your partner. Your lover will appreciate your efforts to make sure that they receive pleasure whether it is by you or a sex toy. A great lover is one that is thoughtful, honest and vulnerable. That's you, right?
9. Using Male Sex Toys Makes Me A Homosexual
No Way! Just because you use a sex toy does not make you gay. Sometimes, the real thing is not available. So, you masturbate. For some guys, the hand never gets old. For others, they are interested in trying something new. Masturbators, like the OLO Fleshlight , don't have to look like a vagina or an anus. They can be discreet if that's what you prefer. Plus, have you ever considered masturbating with your partner? Some people find it very erotic to watch their partner masturbate.
A prostate massage is the best orgasm a man can have. Just because you stimulate the prostate via the butt, does not make you gay. Scrotum CEO Chris Schenk discusses the "Super-O" — a term coined by an Aneros user describing the sensation of prostate or "male G-spot" stimulation. It "is often described as a series of smaller orgasms that build into a large and extremely intense full-body orgasm or series of orgasms" according to Schenk. Why would you not want to experience that?
It's time to let go of fear . . .
No one says that you must use adult products to have a good sex life, but you can also enhance it by using them. Sex toys add variety and more pleasure if you and your partner already have a good sexual connection. Sex toys are excellent tools for helping to create amazing pleasure, boost intimacy and add fun to your relationship.
Buy luxury sex toys today at Supor Adult Product!
Top 10 Best Male Sex Toy in 2022
Top 10 Best Female Sex Toy in 2022
Top 10 Best Anal Toy in 2022

Your cart is currently empty.