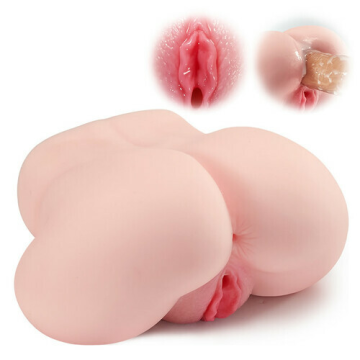 3.3lb Pussy Ass Masturbator With Virgin Vagina And Anal Stroker
$89.99
It's really great, I think it's cheap, it will be small, but it's by no means completely feminine size! ! Kind of like the big ass of a short gym chick! It is so weighty. Honestly, don't even bother other people and grab one of the TPEs. It's like the skin is soft and realistic. I like that the pores on the butt look very real. I put my brother on it for comparison although that's a bigger brother if you take care of it Well it, this toy will last a long time. Don't forget the water lubricant! Cornstarch keeps the skin's real feel and appearance, I recommend using a clean cloth to wipe the inside and don't release it to avoid accidental doll pregnancy. There is nothing worse than your wife or girlfriend discovering that you have a doll baby behind you. Besides, have fun crushing this thing, it's worth it
Well made with excellent weight too it. I was truly impressed on how real it felt. Will definitely recommend this to others!!! The weight to it is a real plus. Water based products should be used for long life~
Very happy with this product! It's got a great weight to it, which is perfect for some hands free action. The textures of both holes feel tremendous, and they have a little suction to them to keep you coming in for more.
Arrived in a timely manner in discreet packaging. The product itself has a nice weight to it and feels incredibly soft to touch. It feels great to use and is very easy to clean. Overall a good choice.
This is by far one of the best toys I have ever purchased. Feels incredible, and very good quality. I looked at some of the higher priced similar toys, but they all had mixed reviews. This toy is priced very reasonably, and is fantastic. Very highly recommend!
this toy was amazing! it's the perfect size, not too big or too small. the texture feels amazing on your "rod". i've used it everyday since it came and i'll definitely be using this a lot more!
The product feels very nice and very squishy and its pretty good in its size
Arrived in a timely manner in discreet packaging. The product itself has a nice weight to it and feels incredibly soft to touch. It feels great to use and is very easy to clean.This product has such a lifelike feel to it, very sturdy and easy to clean! Was shipped and delivered exceptionally quick, so satisfied. Cannot wait to order more products from you guys. Despite the small sizes the holes stretch easily, and there's more detail than you would expect for the price!
I wasn't sure what to expect from product when I ordered it. However that completely changed once the product arrived. Not only was it of very high quality materials but it was just the right amount of softness. My partner and were blown away with how it felt and had a wonderful time with it. Cant recommended this product enough. Best part is you don't have to worry about charging it or batteries dying. 5 star in my book.
Just got and took it for a ride. The box it comes in is a plain black box with a name propropfit or something like that. I threw it out already to dispose of the evidence lol. I have the flesh lights and this feels by far better. Its definitely smaller then it looks. Its about inches wide but the orifices are proper sizes. Feels like the real thing. I took it for a test drive once I got it and once done it had me laughing out of pure joy which for me means a pure "wow". I had the larger pdx pipedream butts and it feels the same but more compact. I have to get a vr setup to put this to work. Closing my eyes while using this led to fireworks. I highly recommend get it.
it came in discreet packaging which is good. it feels very very soft to the touch and is very squishy. very easy to clean! definitely recommend :))
First of all, as a single male working in the middle of nowhere, this is a life savor. I usually don't write many reviews, but this one brought a lot of fun to me, which makes meI have to share my user experience. It looks real out of the box, especially the inside, not just a plain hole.. the touching and texture, feels so real. For the first time you have to rinse it thourouhly inside and out, since there is some kind of power all over it, probably for protection purpose. After that, you are good to go. The hole is kinda tight, at least for me, which may not be a bad thing.. The thing i like the most is that the whole thing is made of silicon, so the weight really feels like a human butt, plus the material is very soft feels like real skin, it just feels so real. The cleaning is quite simple, just use water to rinse it inside and out, and let it dry out. So overall I am really glad with this purchase, definitely worth the money.

Your cart is currently empty.