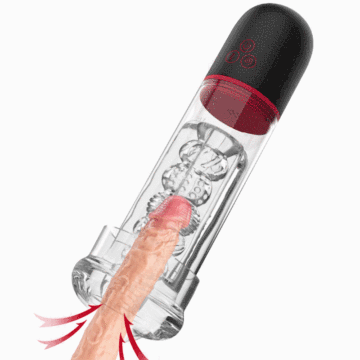 S-HANDE Vibration 9 Mode Suction Penis Pump
$79.99
Came packaged very well. Cool lights, it's like living in the future. With cyberpunk being recalled it's really holding over.
I had previously tried a pump and was disappointed in how it performed. But this one exceeded expectations. Quite strong and keeps the pressure maintained where you set it. Unexpected pleasure when it senses that it needs to restore the pressure to the setting - quite pleasurable. The pump is entertaining in mixed company as is the silicone sleeve. Very much recommend this to anyone who is considering something like this.
The product comes in a normal box-so transportation is cautious. After opening the Amazon box, it is in a white box, as you can see in my photos. The description in the settings and functions of the pump itself may be more detailed, but it is easy for you to figure it out by yourself. I do recommend that you use a small amount of lubricant when using the pump (and also want to use some lubricant on the "vaginal" part). I tried the first one-it worked very well. Once I was inflated, just slide the black rubber sheet down and slide the vagina into the tube and use it. Literally, it feels very good, I didn't expect this at all (even though I never tried one of them). For me it's 100% value for money.
Works great!! I honestly have no complaints and it certainly gets the job done! Trust me, you'll enjoy every single moment ;-)
Today I received my toy from WeDol and like others man was I impressed! Like a kid on Christmas I couldn't wait to give it a spin( pun intended). Certainly satisfied! Great suction, extremely easy to clean and with the different modes and speeds it's certainly room for a lot of fun! Thank you!
Amazing features, a must try and must have, perfect for any time and where, quality device.
I have tried a lot of penis pump options because I am very self conscious of it and nothing has seemed to work in the past.After using this a few times I am throughly impressed,the suction power was a lot better than expected.I experienced thickness that I have not ever had before.
This is my first experience with a pump and had no idea what to expect. Since I've been pleased with the quality of other products I've purchased, and the "can't go wrong" price point, I figured why not give it a try. After a few laps, I can say that I definitely see positive results in size and staying hard longer. A word of advice: Start slow – don't over-do it. The suction power is intense (even at the lowest level) and can catch you by surprise. Work your way up until you find a comfortable level. Thankfully, the release value works effectively and quickly. The two included sleeves provide different results and sensations. The product is also smartly designed. Easy to hold, not overly large, quiet as hell and disassembles easily for thorough cleaning. I like that an extra O-ring is included which someday will prolong the life of the product. If you need a little extra help now and then, this is the pump you want to have. Trust me, your partner will enjoy watching you use it and the results.
Oh yes, it's a beast! Powerful and durable. Not for the well endowed, but everyone else - Time to party!
WHOA NELLIE!!!! Hang on guys! This number is a wild ride.
This product is of good quality. The suction is good and it provides great pleasure. Different modes is very nice.
Great suction for the money nice and wide if you are a girthy guy like me helps assist with ED issues. Nice that the rings were included in concealed bag

Your cart is currently empty.