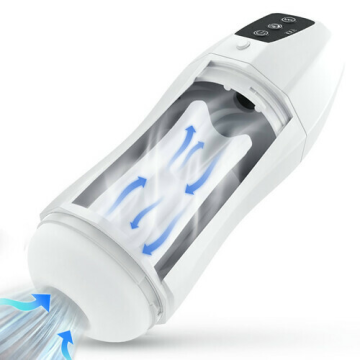 Sucking Vibrating Blowjob Masturbator
$95.99
This is a well built and well designed toy. The tags and bumps make for a great texture then there is the vibrations which is pretty strong and the location where it stems from is in the perfect spot then there is the suction which is so much more powerful than I ever imagined it could be I have tried a few of these type toys in the past but nothing comes close to the intensity of this one!
I was surprised by how soft the sleeve was. It is very easy to remove and clean, but putting the sleeve back in may take a little effort, nothing too difficult though. The suction on the machine was surprisingly strong. There are 3 suction settings which all provide a different experience. The third setting seems to create the strongest suction and is my personal favorite. The motor itself is very quiet. I have a small room, and the sound is not at all loud enough to be heard outside the room. Using the suction in conjunction with vibration does make it a little louder, but still nothing to complain about.
What caught my eye with this product was the price, so I decided to give it a try. I don't know how this toy compares to others in this price range, but this one is worth the money. advantage: The build quality exceeded my expectations. Sleek look and feel like a sturdy product. The material of the sleeve itself seems to be a little denser than other products, but still has a very soft jelly feel. This is a plus because I've been ripped apart by toys in the past. Cons: Size. I sit about 6.5 inches long and average circumference for that size. The fit is very tight at first, but that's for suction. The insertable length is about 4.5 inches, but for a more natural oral experience, this is all you need. Vibration and suction are stronger than expected. I found one suction setting I liked and one vibration setting, and it was the only one that really made me happy. Final Verdict: For the price, this toy is great. It didn't surprise me, but it might make a difference for someone with less bedroom experience. If you're looking for a toy to suck your life away, this isn't for you. Actually, this toy is good for some edging. The rhythm wasn't enough to get me off in less than a few minutes, but I really enjoyed its long, slow sessions. If there was a bigger version, about 6.5-7 inches of insertable length, with more horsepower (suction and vibration strength), then I would definitely buy this one. Heck! I'm willing to pay $20 more for a product like this. All in all, I'm sure other toys have features that I prefer, but this one is worth the price.
This male cup is useful for solo play. It came wrapped in a white packaging with no label, delivery was really discrete. I like the design on it, it doe not appear as a sexual tool when you first see it. The charging light might not be noticed when the lighting is strong in your room but in shows in dim light. The toy itself feels really soft and gentle on you. It is deep enough to accommodate different sizes. Don't forget to use lube for a more pleasurable experience. The different vibration levels offer different experiences from regular to very intense. Cleaning is very easy by water and soap. When it says hands-free, do not confuse it the toys that can be placed on walls or smooth surfaces, this means you just put it on and let the vibration do the work.
I bought this for my husband and have a little fun when I am not at work. I can tell you that the toy is well made by inspecting the product in person. The main casing is opened, and the soft silicone sleeve can be easily removed and cleaned. As soon as I turned on the suction, I stuck my fingers inside, and could feel the "wall" tightly surrounding my fingers. Not very tight, but strong enough to notice that the vibration and suction functions are a good contact. After we lubricated with a water-based lubricant (Never use silicone on silicone toys), my husband slipped his masculinity into his sleeve, and his reaction was priceless. He has a real fleshlight, saying that petting is boring, but this thing is a small BJ machine! No need to stroke, just slide your penis in and let the machine serve you until it's done. There are multiple settings for vibration and suction, which will not disappoint. It is easy to clean up, and the sleeves are strong enough to be turned over and washed with mild soap and water. Some diluted rubbing alcohol may be thrown there to prevent bacterial growth. Make sure to dry completely before storing. The shell itself can be cleaned, but first remove the sponge to clean the shell by turning on the suction and allowing it to draw water into the sponge compartment. Overall, this is a great device when you need to give yourself some quick love.
Great fleshlight!!! This product felt so great with all the different settings. Super easy to use and the packaging was great.
Let me start by saying packaging was very discreet And high quality! The toy itself is very simple to use, has such strong suction the toy has a button to release the pressure, overall a great toy that's discreet and would be easy to travel with. The toy definitely did it's job!!
What can I say... this is not a typical hand toy that you usually encounter in online stores :) I am looking for something that can imitate sucking, and the boy made this delivery. I'm really surprised, this thing is fully automatic, you don't have to push it yourself. It was a bit awkward at first, I tried to operate it with my hands, but soon realized that I was pushing the motor. Then I let go, and the boy sucked it in: D The thrust is really solid and pleasant, the vacuum is comparable to the real feeling, plus the strong vibration, it did not last me more than a minute:) So yes , This thing is something. Of course, it does not have several disadvantages: First of all, for me, it is a bit annoying wine noise, but it may be inevitable because of the vacuum motor inside. So it is best to use some headphones so that you are not distracted. Second, it only needs to have a faster sucking speed option. I understand that the 4 vibration options can do the job well, but it still needs some kind of speed increase when it reaches its climax. All in all, I am very satisfied with this purchase and I think this toy is a good helper (or mouth:)) when I am on the road and only go to my wife on weekends :)
Wow wouldn't expecting this Product to be as awesome as it is . It has 4 settings not that you can tell by looking at it but the was a good surprise!First of all super discreet packaging, no one would know what's inside. The suction is amazing and the vibration just shoots you over the edge. Fun to use on my own or with a few of my closest friends!!!! Definitely a must have. Can't post pics here but I'll definitely post some in other places ;-). Do buy, do enjoy and over all have a relaxing time all by yourself!!!!
I'm typing this day 1 of having the product, so I can't say much about its long-term durability. However, this thing sure gets the job done. The material is way softer and squishier than I expected, and it feels great. Seems like it could tear easily so I'm hoping it will stay together after frequent use. The vibrations aren't incredibly strong but they're a nice touch and are relatively quiet. The suction feature is loud as hell, so use it in privacy and it works like a charm. It's a bit hard to clean the sleeve, and the USB-C port on my model only works with the cord they provided for some reason. These are relatively small issues though. Overall, this is a solid product for being under $100.
This masturbator cup is an interesting toy. The delivery was really discrete. I like the green color and the flashiness of it. It charges pretty quickly and the orgasm button flashes when it's charging. The toy itself feels really but don't forget to use a copious amounts of lube for a more pleasurable experience, it tightens when you're using it. The different mode offer different experiences from regular to very intense, and the succion mimic a slow realistic blowjob. Cleaning is very easy by water and soap.
I like that its super easy to clean and easy to charge also easy to use. It has a one click orgasm button which is awesome I definitely would recommend this product especially at this price

Your cart is currently empty.