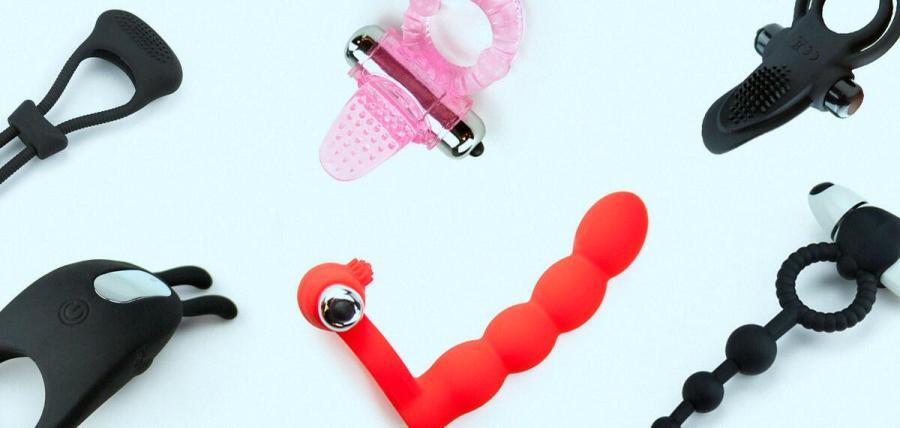 COCK RINGS: FREQUENTLY ASKED QUESTIONS
Tuesday, 13 October 2020

1

2815

0


WHAT IS A COCK RING?
A cock ring is a simple yet versatile sex toy. It may look like just a basic, plain circular ring that slips around the base of your cock - you might even initially think that it is just pretty to look at, rather than functional. However, a cock ring can actually improve your sex life dramatically, both by helping your cock stay harder longer and by giving you less frequent but more drawn out and intense orgasms. It is both amazing for solo play AND an absolute must-have part of any kinky pair's sex toy kit!
WHAT ARE OTHER NAMES FOR COCK RINGS?
Cock rings is the most common name used, but you may also hear them referred to as penis rings, chastity rings, or orgasm denial rings. They are also often described using elements of their design, such as "adjustable cock ring" or "silicone cock ring".
WHAT DOES A COCK RING DO?
The purpose of a cock ring is to make your erections harder and delay your orgasms while making them more intense. Any guy who wants to feel like a sexual stud in the bedroom should definitely give wearing a cock ring a try. Your erections will be harder than you have ever experienced before in your entire life. When you finally do cum, after putting on a display of absolutely impressive stamina for your partner, your cum will not dribble or drip out of you like a leaking faucet but shoot out of your cock with force and confidence! Look great, feel great and fuck great, all with just a simple cock ring.
WHAT TYPES OF COCK RINGS ARE THERE?
The major two varieties of cock ring are solid cock ring and hinged cock ring. Solid cock rings are meant to be slipped directly over the cock and all the way down to the balls, and must be removed in the same manner. Meanwhile, hinged cock rings feature a fastening which can be clipped or snapped open. These hinges make cock rings especially easy to put on and remove. Other varieties feature a wide range of sexy, pleasure bringing add-ons, which include beaded cock rings, vibrating cock rings, and adjustable cock rings.
WHAT IS A "BASIC" OR "STANDARD" COCK RING?
Because cock rings come in so many varieties, there is not one type of cock ring which is considered more "basic" or "normal" than others. However, if we had to describe a "standard" cock ring from our Lovegasm collection, it would be a solid ring with no fancy add-ons, made from either white or black silicone or standard stainless steel.
WHAT IS A VIBRATING COCK RING?
Can you combine a cock ring and a vibrator? You bet your sweet, sweet ass that you can Nowadays, pretty much any sex toy can have a vibrating element added, and cock rings are no exception! Silicone cock rings can have a small motor attached to them or inserted inside them which can create pleasurable vibrating sensations. These sensations will run up and down your cock while you are wearing the ring, bringing you ever closer to the peak of pleasure. Your partner will love the vibrations too, as they will be perfectly positioned to rub right up against their clit, G-spot or prostate while you are going to town on them!
WHAT IS AN ADJUSTABLE COCK RING?
Adjustable cock rings come in two varieties: elastic rubber rings, which can stretch as needed, and rings with fasteners that can be pulled tighter or loosened if it is necessary to alter the size of the ring. These rings are great if you are not quite sure what size cock ring is right for you, because they will adjust to the size of your cock rather than you having to adjust to them. Variable size cock rings are also recommended if you will be sharing the cock ring with another person, such as a male sexual partner as it will be able to fit multiple shapes and sizes of penises while feeling comfortable on every single one of them.
WHAT IS A LEATHER COCK RING?
Unlike other, firmer cock rings made from silicone, plastic or metal, a cock ring made from leather is softer and more flexible. The material is more comfortable around your cock and does not grip you as firmly. However, it is just as effective as all other types of cock ring at keeping you from having an orgasm and keeping your cock nice and tall and hard. Plus, leather is extremely attractive and looks great with a nice set of bondage gear!
WHAT OTHER SEX TOYS COME WITH COCK RINGS ATTACHED?
Chastity cages (also referred to as cock cages or male chastity devices) also feature attached cock rings, which wrap around the balls and keep the sperm stored there from releasing, no matter how aroused you get. Today, you can even get a strap on, vibrator or prostate massager with a cock ring attached so that you can trap your cock while still being able to penetrate your partner's sexy pussy or ass!
WHAT MATERIALS ARE COCK RINGS MADE OF?
Cock rings come in a wide variety of different materials, which highlights their versatility as a sex toy. The most common materials which you will find are silicone and various metals, particularly stainless steel. However, recently, cost-efficient hard plastic cock rings as well as elastic rubber cock rings are also becoming very popular. Of course, you can find every single one of these cock ring varieties right here at Lovegasm!
WHAT ARE THE BENEFITS OF A SILICONE COCK RING?
Silicone is an extremely soft, comfortable material which has even been favorably compared to the feeling of real human skin. It can even warm up due to being nestled against your skin, matching your own temperature for an extra-comfy sensation. It's also the material to choose if you want to experiment with extended cock ring use, as you can almost forget that you are wearing one after a couple hours since it feels so natural against your skin. Finally, silicone cock rings are best if you are seeking additional functions such as vibration, because they are body-safe and do not conduct electricity.
WHAT ARE THE BENEFITS OF A METAL COCK RING?
Metal is all about two things: intensity and aesthetic. The feeling of metal against skin is one of the most kinky sensations you can experience - after all, it is! That's what makes things like handcuffs and chains so popular! It can heat up or cool down depending on what you prefer, feeling pleasurable throughout yet not quite ever allowing you to get truly comfortable. Aesthetic-wise, a metal cock ring makes a striking statement and pairs well with leather bondage gear, latex fetish clothing or other metal sexual accessories such as a penis plug or a nice set of nipple clamps.
WHAT METALS CAN BE USED TO MAKE A COCK RING?
As with the majority of sex toys made from metal, cock rings utilize stainless steel. It is a strong, sturdy, dependable metal which can stand up to lots of wear and tear, while also being extremely beautiful to look at with its distinct silver color and cool, glittering surface. As an added bonus, stainless steel is sterile and easy to clean, is completely body-safe to wear and does not attract a lot of bacteria. When going for a metal cock ring, we strongly encourage you to stick with stainless steel and avoid weaker, inferior metals.
WHAT ARE THE BENEFITS OF AN ELASTIC OR RUBBER COCK RING?
The benefit of this cock ring material is right there in its name - elasticity! Rubber cock rings can stretch far more than other materials, meaning that they can easily fit around cocks of all shapes and sizes. Plus, the fit is nice and comfortable without being too tight, and rubber is available in an entire rainbow of colors, making it extremely easy to find your favorite hue right here in our catalog.
WHAT MATERIAL SHOULD I CHOOSE FOR MY COCK RING?
Whichever one you prefer! You should choose the material which will best suit your needs. If you're looking for something comfortable, try silicone. Adjustable? Then rubber is right for you. Cool and intense - dare we perhaps say "badass"? Then you can't go wrong with stainless steel! As for our recommendation - well, we love cock rings so much, we couldn't possibly choose between them! We recommend picking out several different materials and trying out each and every one of them in the bedroom!
IS THERE AN EQUIVALENT TO A COCK RING FOR WOMEN?
No. Unfortunately, there are not cock rings designed for women, as it is difficult to wrap something around the clit like it is around the firm length of the cock. In general, toys which delay or prevent the female orgasm are less popular than their male-centered alternatives. However, Lovegasm's extensive sex toy catalog does offer a few options to try out, including female chastity belts, vaginal and urethral plugs, and clitoris clamps. If female orgasm teasing is what you seek, why not grab a few of these toys for yourself?
WHY DO SOME COCK RINGS FEATURE BEADS OR BALLS AS PART OF THE DESIGN?
These beads or balls serve both a functional and an aesthetic purpose. On the functional side of things, they prevent any sharp ends, pegs or corners (for cock rings which feature a opening or fastening rather than being a single unbroken circle) from scraping against the extremely sensitive and nerve-ending filled skin of your cock. This keeps you safe and comfortable no matter what type of cock ring you are wearing. Plus, they look great and will draw your partner's attention to your proudly standing cock. As an added bonus, which you might have never even considered before, the beads will rub sensually against your partner's inner walls during penetration, providing them with a little extra spike of pleasure as well!
ARE THERE COCK RINGS THAT CAN PLEASURE YOUR PARTNER TOO?
There certainly are! Beaded rings and vibrating rings are specifically designed to pleasure both you and your partner, enhancing their experience while keeping your erection strong and proud. They are specifically targeted to rub against the most sensitive spots of either a female or male body - the clitoris and G-spot for women, the head of the penis, the testicles and the prostate for men. Of course, since your partner is probably not wearing a cock ring themselves, they might even be able to enjoy multiple orgasms right in a row. Why not start counting and see just how many you can string together at once with the help of your handy-dandy cock ring?
HOW DO I CHARGE MY VIBRATING COCK RING?
Follow the instructions provided with your Lovegasm vibrating cock ring in order to keep its motor running. Our vibrating cock rings come in two varieties: USB charging and battery-powered. Battery-powered vibrating rings use small "watch-sized" batteries which must be replaced when they run down. The ring comes with one set of fresh new batteries so it is ready to use as soon as it arrives. Chargeable rings come with a small charging cable that is compatible with a standard USB port. When their motor runs down, these vibrating rings can be plugged in and will be returned to full charge in just a few hours.
HOW DO I CHOOSE A COCK RING THAT FITS ME?
Choose the cock ring which is closest in size to the circumference of your penis. Remember to measure exactly at the area where you wish to wear the ring - typically, this is either the wide base of the penis just below the balls or the area just beneath the head where the shaft begins. If you choose an adjustable ring, you do not need to worry about this, but if you select one which is non-adjustable, be sure to be accurate with your measurements as closely as possible to avoid buying a ring which is either too large or too small.
HOW DO I MEASURE MYSELF FOR A COCK RING?
First, get yourself hard - you need the measurements of your cock while erect rather than while flaccid, as cock rings are meant to be worn in order to keep a strong, virile erection. Take a flexible measuring tape and wrap it snugly around your cock to measure the circumference in either inches or centimeters. If you do not own a measuring tape, you can get an accurate result by wrapping a piece of string or ribbon around your cock, straightening it out, and then placing it next to a straight ruler. Its length will be equal to the circumference of your cock and will give you the desired measurement.
WHAT ARE THE BENEFITS OF WEARING A COCK RING?
Our Lovegasm cock rings will keep you going harder for longer! Your erections will last longer than they ever have before. Because you are made to wait, your orgasms will also be a thousand times more amazing than anything you have ever experienced. You'll have better, stronger orgasms with much higher pressure and will be able to hold off in the bedroom until your partner is satisfied as well. Plus, any problems you may have had with erectile dysfunction or difficulty holding an erection will absolutely disappear forever!
HOW DOES WEARING A COCK RING FEEL?
Wearing a ring around your cock will generally feel a little snug but not so tight as to be uncomfortable. You will experience a pressure around the base of your cock, which keeps you hard and delays your orgasm from happening too soon. The feeling has been compared to having a firm hand wrapped around your cock and holding it in a snug grip. It will not be painful. Plus, you will still get to experience all pleasure from having your cock stimulated just as intensely as you would without the ring. In fact, your sensitive skin might be even MORE responsive than usual because so much blood will be trapped inside your cock creating an extra-proud erection!
WILL I BE ABLE TO GET HARD WHILE WEARING A COCK RING?
Yes! Cock rings do not prevent you from getting hard at all. In fact, you will be able to have firmer erections and stay harder longer than usual due to stronger blood flow to your cock and the ring keeping the blood firmly in place. Get ready to enjoy your erections more than you ever have before - and your partner will be able to do the same too!
WILL I BE ABLE TO HAVE AN ORGASM WHILE WEARING A COCK RING?
This depends on the man. Some men find that their semen is trapped completely within their balls and they are not able to have an orgasm until the ring is taken off. Once the ring is removed, orgasm will happen almost immediately with the cum shooting out of the cock with great force. However, other men are able to cum while a wring is still wrapped firmly around their cock, although it usually takes longer for the orgasm to come because the semen has to "force" its way past the ring. To test out which camp you fall into, the best way to learn is simply to get a cock ring of your very own and go to town until you're ready to burst!
HOW DO I PUT ON A COCK RING?
Putting on a cock ring is an extremely easy process. Simply slip it over the head of your cock and adjust it until you have reached the desired location. Most cock rings can be placed either at the base or directly underneath the head. If your cock ring features a second ring that also circles the balls, slide it closely to the base and make sure that both rings are carefully secured. If you find the ring slipping off while your cock is flaccid, make sure to start stroking yourself and get yourself hard as quickly as possible. Once you are hard, a properly fitted cock ring will stay firmly in place.
CAN I WEAR MORE THAN ONE COCK RING AT ONCE?
You absolutely can wear more than one cock ring at once. Some men particularly enjoy wearing one cock ring just underneath the head of the penis, and one around the base above the balls, or pairing a "standard" cock ring with one that features a sexy add-on such as a vibrating motor or a set of beads to pleasure your partner. However, do keep in mind that one cock ring is more than enough to keep your erection hard and prevent your orgasms from bursting out too soon, so you do not have to wear multiple if you do not want to.
SHOULD I PUT ON A COCK RING WHILE MY COCK IS HARD OR SOFT?
This is up to your personal preference. You can slide a cock ring onto either a hard or a flaccid cock. However, we do recommend getting hard quickly, as the ring will be sized for your hard cock and may be difficult to keep from slipping off while you are soft. As always with cocks, hard is definitely the best way to be!
SHOULD I TAKE OFF A COCK RING WHILE MY COCK IS HARD OR SOFT?
Once again, it depends. If you are able to cum while still wearing a cock ring, then you can enjoy your orgasm with the ring still on and then slip it off once you have gone soft. However, if you can't cum until the ring has been removed, then you had better learn how to remove it quickly while you're still hard, because you simply won't have any other options!
CAN I MASTURBATE WHILE USING A COCK RING?
Absolutely! In fact, masturbating while wearing your cock ring is highly recommended. It is the best method of getting used to the feel of wearing a cock ring, training yourself to hold off from having an orgasm longer, and experiencing your more powerful, higher pressure orgasms until you are more accustomed to this new "superpower" that your cock ring has granted you. We definitely recommend trying out an extended edging session while you just let that cock-ring trapped orgasm build and build and build before finally exploding!
CAN I WEAR A COCK RING DURING A BLOWJOB?
Yes you can! Men, we all know it, it's no secret - getting a blow job from your partner is really dang sexy. Their mouth is hot and wet, and that tongue movement and suction are absolutely lewd and sinful. It can be extremely hard to hold back from cumming while you're getting a blowjob, even if you are usually the kind of guy who is noted for your stamina. Luckily, a cock ring can help you with that! You have no option but to hold out with a ring fastened around your cock, so you will be able to enjoy your partner's amazing blowjobs for even longer than ever before!
CAN I WEAR A COCK RING DURING VAGINAL SEX?
You certainly can! You'll last longer, possibly even long enough for your female partner to experience multiple orgasms of her own. Plus, the cock ring will create a very pleasurable sensation for her, as it will feel like absolutely nothing else she has ever experienced before when it rubs against the sensitive inner walls of her pussy. Your cock ring will find its way right to her G-spot on the first try, plus, some rings which feature large beads or vibrating motors can even target the clitoris and stimulate it WHILE you are taking her to "pound town"!
CAN I WEAR A COCK RING DURING ANAL SEX?
You bet that sexy ass you're planning to pound that you can! Your cock ring will nudge and twitch against the tight inner walls of your partner's receptive, willing ass, stimulating them just as it keeps your cock in perfect penetrating shape. They'll feel great, you'll feel great, and you'll be able to fill an asshole with an intensity and size that you have never been able to maintain before. Plus, a beaded or vibrating ring, especially when worn just underneath the head of your cock, can be perfect for targeting the prostate and giving your partner a body-shaking orgasm of their own!
WILL A COCK RING FALL OFF?
Not at all! If your cock ring is properly fitted, then it will stay comfortably on without any risk of falling off. It will not need to be moved around or adjusted at all and will stay exactly where you want it to be even if you are walking around, doing your daily chores or exercising. If your cock ring does fall off, then that is a sign that it is too loose and you should take another look at our Lovegasm catalog and pick out a cock ring which fits your unique cock better.
HOW DO I TAKE OFF A COCK RING?
If your cock ring is a solid circle with no fastener, you should take it off the same way you put it on - by slipping it back down the shaft of your cock and over your head, ideally slowly so as to further tease your cock with sensations. If your cock ring is able to open and close using a hook or fastener, you can simply open that and then remove the ring entirely. (We do recommend practicing taking your cock ring off until you can do it quickly and efficiently - remember, odds are you won't get to experience your extra-pleasurable orgasm until the ring is fully off!)
DO I NEED TO USE LUBE WHEN PUTTING ON MY COCK RING?
Lube is not required, however, some people prefer it to make the experience of putting on a cock ring smoother, quicker and more efficient - and perhaps even more pleasurable, if you're a fan of having your cock nice and slicked up. We can't answer this one for you - so we recommend trying it both ways (lubed and un-lubed,) seeing which feels better for you, and going with that method from now on.
WHAT LUBE CAN BE USED WITH COCK RINGS?
Different types of lube can safely be used with cock rings. Oils and water-based lube can safely be paired with any kind of cock ring material, while silicone-based lubricants should only be used with rings that are not themselves made from silicone. (This is because silicone reacts poorly with itself, and can cause the ring's material to break down). Stick with an old favorite or try something new in honor of your brand new cock ring - it's all up to you!
HOW OFTEN DO I NEED TO CLEAN MY COCK RING?
Cock rings are small and easy to clean, so we recommend cleaning them after each use. This stops nasty bacteria from building up or too much sweat or lube from drying and creating a sticky residue. In general, you should not be cleaning your cock ring any LESS frequently than once every two weeks. Remember, more frequent cleaning is always better, and will make your cock ring play sessions even more pleasurable than ever before!
HOW DO I CLEAN MY COCK RING?
A cock ring should be cleaned by soaking it in warm water and washing it with a gentle soap. If it has a fastener, make sure to pay extra attention to the small parts where fluid can get trapped and "gum up" the mechanisms. Make sure that it is thoroughly dried before putting it back on again, as a damp cock ring can lead to chafing and is very uncomfortable against the sensitive skin of your cock ring.
CAN I BOIL MY COCK RING?
No, you should generally avoid boiling your cock ring. Many materials used to make cock rings, including plastic, rubber, and silicone, have a fairly low boiling point and are at risk of melting, while stainless steel will not melt but will quickly become extremely hot to the touch. You can use warm water safely, but make sure to avoid boiling it. Water that is slightly above room temperature, warm but still able to be touched without burning, is your best bet.
WHAT SHOULD I AVOID WHEN CLEANING MY COCK RING?
As mentioned above, avoid boiling your cock ring so that it does not degrade in quality. You should also avoid using any overly rough chemical cleaners which may also cause some scarring or cracking in the surface of the cock ring. Finally, you should never use any kind of soap or lotion which has a particularly strong scent, as you will find that this scent lingers long after you have finished your cleaning session, and will be distracting and unpleasant during your next sex or masturbation session.
HOW SHOULD I STORE MY COCK RING WHEN I AM NOT USING IT?
Like all sex toys, cock rings should be stored in a clean, dry, safe location where they will not be exposed to any dirt or bacteria. In general, Lovegasm recommends keeping all of your sex toys together in a sealed plastic tub or other similar container, so that they will not get dirty when they are not in use. Give your cock ring a complete looking over every time you pull it out but before using it - and maybe give it a brief wipe-down with a damp washcloth if you notice it starting to look a little dusty.
ARE COCK RINGS SAFE?
Yes! Cock rings are completely safe, and do not pose any danger to your body or your health. While they temporarily trap blood within your cock to keep your erection extra-hard and semen within your balls to delay your orgasm, none of these effects are permanent. Your erections and your ability to have an orgasm will go back to normal as soon as you have removed your cock ring. However, we do caution against wearing a cock ring for too long, as, like many other sex toys, it can begin to become uncomfortable if you do not take breaks every so often.
HOW LONG CAN I WEAR A COCK RING?
Cock rings can be safely worn for up to several hours at a time without causing any damage to your cock or the rest of your body. We do not think you should keep a cock ring on for more than a day at a time. This can result in discomfort and a bad case of what is generally known as "blue balls" from having your orgasm backed up and denied for too long. Even if you're a huge tease and denial fan, the occasional orgasm keeps your cock healthy and your brain fully charged with adrenaline and pleasurable endorphins!
HOW TIGHT SHOULD YOUR COCK RING BE?
A cock ring should not be too tight. It should be just tight enough to stay firmly around your cock without falling off, but not tight enough to squeeze or pinch at your skin. Think of it as similar to a bracelet or a ring that you would wear around your finger - you are looking for a "snug" and "comfortable" fit rather than a tight one. A cock ring that is too tight or a cock ring that is too loose will make it difficult for you to enjoy the ring to its fullest.
CAN I WEAR A COCK RING WHILE I SLEEP?
It is possible to wear a cock ring while you are sleeping. You may find it difficult to fall asleep with an erection, but it can in fact be a fun part of training yourself in the art of self-control and denying yourself pleasure for as long as possible. However, when you wake up you will probably be extremely hard and right on the brink of orgasm. If you choose to sleep with your cock ring on, you should remove it and let yourself orgasm pretty much immediately after waking up. Wearing a cock ring for too long can cause you to develop "blue balls" and have extreme difficulty going about your day.
WHAT IS A HYPOALLERGENIC COCK RING?
"Hypoallergenic" is a word meaning "not containing any common allergens". When it comes to cock rings, materials that some people are unfortunately allergic to are latex and rubber. These allergies usually cause people to develop skin rashes or itches when their skin is in contact with rubber for too long. Therefore, rubber elastic cock rings are not hypoallergenic, while silicone and stainless steel cock rings are officially considered hypoallergenic.
WILL WEARING A COCK RING HELP IF I HAVE PROBLEMS GETTING AND KEEPING AN ERECTION?
Yes! Erectile problems can be caused by any number of factors. Common causes include not enough blood flow to the area, mental and physical stress, and a general lack of sexual confidence. However, a cock ring will eliminate those problems. It will encourage blood to flow to your cock and keep it trapped in there so that your erection will stay stiff and strong, no matter how nervous or scared you might be. Your mental problems can't get in the way if you simply cannot resist the power of the cock ring and the extra-hard stiffies it causes!
WILL WEARING A COCK RING HELP IF I HAVE PROBLEMS WITH PREMATURE EJACULATION?
Definitely! Today, many men report that they unfortunately cum much too quickly when they are masturbating or having sex. This is extremely frustrating and disappointing as the resulting orgasm is short, unsatisfying and not very powerful, and it will not give them enough time to pleasure their partner and bring them to orgasm as well. Cock rings will slow down or even fully stop the flow of semen, forcing your body to wait to have an orgasm. It will get the proper time to build up so that it is both extremely powerful and extremely pleasurable once the full torrent of your cum is finally released!
CAN I WEAR A COCK RING IF MY COCK IS UNCIRCUMCISED?
Yes, you can! Men with both circumcised and uncircumcised cocks are able to use cock rings and experience pleasure from them with no problems whatsoever. If your cock is uncircumcised, you may wish to try an experiment with your cock ring. Wear it both above and below your foreskin, to see which feels more comfortable or pleasurable for you going forward.
CAN I WEAR A COCK RING IF I HAVE A COCK PIERCING?
In most situations, the answer is yes. You will be able to wear a cock ring in addition to your cock piercing, without experiencing any problems at all. However, you may need to be a little more careful when putting on or taking off your cock ring, to make sure that the ring does not catch against your cock jewelry and pull on it, which can cause discomfort or even pain. If you are experiencing this problem, especially if you have a piercing on or around the head of your cock, you may wish to purchase a hinged cock ring that you can open and close your ring without having to slip it over your pierced cock.
CAN I PEE WHILE WEARING A COCK RING?
This is one of those questions where the answer will vary from person to person. Some men find that they are able to pee like normal while wearing the ring. Others will discover that their pee is trapped inside the ring just as securely as their ejaculate fluid. The only way to learn which camp you truly fall into is to try to pee while you are wearing your cock ring. Even if you are able to, you may have some difficulty due to the general struggle which men experience when trying to pee while having an erection.
WILL COCK RINGS LEAVE A MARK ON MY COCK?
No. A cock ring that leaves a mark on your cock, especially one that hurts or lasts for longer than a few moments, is a bad sign. It means that your cock ring is too tight and is not fitting you properly. If you notice a mark, you should replace your cock ring with one that fits you better and will not cause you any discomfort or pain.
WHAT DO I DO IF MY COCK RING IS TOO TIGHT?
If your cock ring is too tight, you should not keep wearing it. Too-tight rings will make your orgasms more painful and less pleasurable, and may also leave marks on the sensitive skin of your cock as mentioned above. If your cock ring is adjustable, then you should loosen it immediately. If it does not adjust, then your best option is to stop wearing this cock ring immediately and purchase a new one that fits you better.
WHAT DO I DO IF MY COCK RING IS TOO LOOSE?
A cock ring that is too loose is no better than one which is too tight. It will not do its job, as a cock ring needs to squeeze you snugly in order to hold back your orgasms and keep your erections as strong and proud as they should always be. Plus, even worse, a too-loose cock ring could slip and fall off during sex, which would be extremely embarrassing and absolutely not the kind of thing you want happening in front of your partner. If your cock ring is adjustable, take a break to tighten it up immediately. If it's not, well, time to treat yourself to a brand new cock ring from right here at Lovegasm!
ARE THERE TIMES WHEN I SHOULD AVOID WEARING A COCK RING?
In general, the times when you should avoid wearing a cock ring as the same as the times when you should avoid wearing a chastity cage: any time that it will negatively affect the health of your penis. You should not wear a cock ring if you are suffering from any sort of illness or injury which affects the cock, as it can slow down the healing process. In addition, you should not wear a cock ring any time that a medical professional needs to look at your cock, so they can do their job without interference. Examples include having your cock examined during a check-up as well as when getting an X-ray, MRI or CAT scan.
WHAT DO I DO IF MY COCK RING IS BROKEN, CHIPPED OR CRACKED?
If you notice any damage to your cock ring, you should stop using it and replace it immediately with a brand new model from our Lovegasm catalog. This is because even the smallest amount of damage, while it may not seem like a big deal, can lead to the ring shattering or breaking while you are wearing it. This can cause permanent damage to your cock and should be avoided it at all costs. Make sure to regularly examine your cock ring for any flaws or errors, and address them as soon as they appear.
HOW LONG CAN MY COCK RING LAST BEFORE I NEED TO BUY A NEW ONE?
If a cock ring is well taken care of, it can last for several months or even several years before needing to be replaced. However, some materials are much longer-lasting than others. An elastic or rubber cock ring will not last as long as one made from hard silicone or stainless steel, because the latter two materials are much stronger and resistant to damage. However, that lifespan will be drastically shortened if you do not clean it or store it safely, so make sure to always take proper care of your precious ring!
WILL WEARING A COCK RING MAKE MY ERECTIONS HARDER?
You bet it will! Even if you're the type of guy who's always rocking a firm cock, you will see your erections reach a level of hardness that you have never experienced before. Your cock will stand up proud, the head flushed red with blood, ready to penetrate any mouth, pussy, or asshole - or even a sex toy such as a pocket pussy - which it desires. Any struggles you may have had with too-soft or too-brief erections will be absolutely gone with the help of your brand new cock ring.
WILL WEARING A COCK RING MAKE MY ORGASMS MORE INTENSE?
Most definitely! Many men who do not use cock rings report that their orgasms are disappointingly brief and not particularly satisfying, because they focus - whether during sex with a partner or solo "fun time" - on getting off as quickly as possible rather than letting the pleasure build. Wearing a cock ring, on the other hand, forces you to slow down and wait for the pleasure to catch up. The male orgasm becomes longer, more pleasurable and more intense - often described as similar to the female orgasm - when it has been allowed to build for several minutes or even hours. You'll cum absolute buckets worth of semen with the "water pressure" of a bursting fire hose!
WILL WEARING A COCK RING MAKE SEX BETTER FOR ME?
Well, do you like lasting longer in bed, being able to focus more on pleasuring your partner because you don't have to focus on holding back your orgasm, and having a longer, more drawn-out and brain-blasting moment of release when it finally does come? If the answer to any of these questions is "yes," then it's another "yes" as well - wearing a cock ring WILL absolutely make sex better for you! You'll feel sexier and more confident, experience a greater amount of physical pleasure throughout the entire process, and finally have that "perfect orgasm" that you've been seeking for your entire life!
WILL COCK RINGS MAKE SEX BETTER FOR YOUR PARTNER?
Don't worry - it's not just good for you. If you like making your partner feel good in the bedroom too, then this is ANOTHER area in which a cock ring can help you out! Wearing the ring will make your sexual sessions last longer, which will give you more time to focus on getting your partner off - perhaps even multiple times in a row, if they're into that kind of thing! Many women (and queer men) complain that sex is far too short and doesn't give them enough time to get off because their male partner's orgasm comes too quickly. A cock ring removes that issue and gives everyone involved plenty of time to enjoy themselves!
CAN I WEAR A RUBBER BAND INSTEAD OF A COCK RING?
NO. Unlike our Lovegasm cock rings, rubber bands are not rated for use during sex, especially not for wrapping around your genitals. Rubber bands are generally too tight without being able to be adjusted like an official rubber or elastic cock ring can be. They will cut off normal blood flow to your cock rather than simply temporarily restricting it, and will leave painful permanent marks on your sensitive skin. Always stick to official cock rings from our Lovegasm catalog, and never, ever, EVER use a rubber band
Top 10 Best Male Sex Toy in 2022
Top 10 Best Female Sex Toy in 2022
Top 10 Best Anal Toy in 2022

Your cart is currently empty.